After twenty thousand Metroidvanias, it's time for an ActRaiser.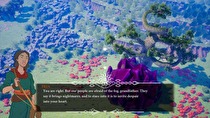 Following last month's Rock of Ages 2, Sega and ACE Team are teaming up again for a combination action game and simulation.
Announced earlier today, SolSeraph will launch on Switch July 10 for US$14.99. Similar to Super Nintendo launch title ActRaiser, SolSeraph combines side scrolling action levels with top-down town building sequences.
The story is written by Jonas Kyrazes, who also penned The Talos Principle, while the opening theme song was composed by the original ActRaiser composer Yuzo Koshiro.