The seasoned Zelda remake team returns to the series after Ever Oasis.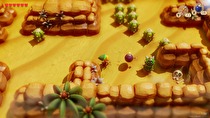 Developer Grezzo is working on The Legend of Zelda: Link's Awakening on Switch, according to Nintendo's Eiji Aonuma in an interview with Kotaku at E3 2019.
Grezzo has years of experience with the Zelda series, having brought Ocarina of Time and Majora's Mask to 3DS. They also assisted with Tri Force Heroes. Their more recent projects were the 2017 3DS game Ever Oasis and the 2018 portable port of Luigi's Mansion.
Oh also, didn't squeeze this into the interview but I'm not sure if it's public info - Aonuma told me that his team is on BOTW2 and that Link's Awakening is actually developed by Grezzo (which handled the Ocarina of Time and Majora's Mask 3DS remakes)

— Jason Schreier (@jasonschreier) June 18, 2019
While Grezzo works on Link's Awakening, the core Zelda team, who most recently made Breath of the Wild, is working on the sequel to the 2017 Switch launch title. The genesis of that sequel apparently was born out of the DLC development, where the team had so many ideas they decided to make a whole new game, echoing the spirit that made Super Mario Galaxy 2 a reality.
Link's Awakening is due out on September 20 and the sequel to Breath of the Wild is in development.