Is it still true that you can beat the game in five minutes?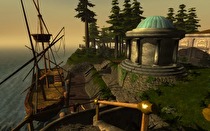 Switch will soon be home to another seminal adventure game.
realMyst: Masterpiece Edition, a remastered edition of the 1993 adventure classic Myst, has been announced for a Switch release by Limited Run Games in the third quarter (July - September) of 2019. Unlike the original Myst, realMyst features real time 3D graphics as opposed to the point and click graphics of the original game.
The Switch version is the first time realMyst has been available on a console.