How to get a couple of games on the slightly discounted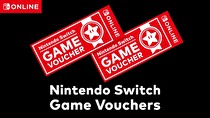 Nintendo Switch Online members can now get money off games in another way.
Introduced in the Super Mario Maker 2 Direct, members can purchase pairs of Nintendo Switch Online Game Vouchers for US$99.99. Each voucher offers a download of a retail-available, Nintendo-published Switch title including the preload version of Super Mario Maker 2, potentially offering US$20 off the purchase. Upcoming titles Marvel Ultimate Alliance 3: The Black Order, Fire Emblem: Three Houses, and Astral Chain will be available "in the future", presumably when their preload goes live.
The vouchers can be cashed in any time in the year following purchase, so long as the NSO membership is still active. Currently, the vouchers will be available until July 31.