That's one Switch printing money gif for Furukawa.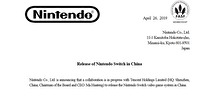 After weeks of stock-boosting rumors, Nintendo has confirmed their intent to enter the Chinese market in full.
A one sentence statement was posted to their investor relations webpage, which reads: "Nintendo Co., Ltd. is announcing that a collaboration is in progress with Tencent Holdings Limited (HQ: Shenzhen, China; Chairman of the Board and CEO: Ma Huateng) to release the Nintendo Switch video game system in China."
The partnership is necessary due to government regulations in China restricting publishing of games to domestic firms. Tencent has published their mobile game Arena of Valor on Switch, and also own a significant stake in Unreal Engine developers/Fortnite crunchers Epic Games. Previously, Nintendo released a GameCube with a DVD player built in along with Chinese firm iQue.
No timeframe was given for the release of the Switch in China, nor what games will be included in the launch lineup there. New Super Mario Bros U Deluxe was approved for release in the country recently.