Coming to Europe next month.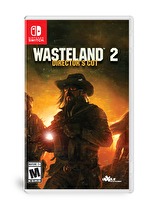 inXile Entertainment announced this morning that Wasteland 2: Director's Cut for the Nintendo Switch is finally available to purchase at retail (in North America) for $29.99 USD/$39.99 CAD. The European release is scheduled to come out next month on May 17th.
"Many of our fans have old school sensibilities, so when we announced the arrival of Wasteland 2 on the Nintendo Switch, we immediately began hearing requests for a physical version of the game. Many players love the collecting element of games - having the game in-hand, displayed on a shelf, and ready to be plucked off that shelf and played at any moment. We investigated the possibility, and thanks to a partnership with U&I Entertainment, are delivering this physical version of the game for our fans to have and enjoy," said Brian Fargo, CEO, inXile Entertainment. (via Press Release)
Check out our review of Wasteland 2: Director's Cut written by our own David Lloyd here.
Wasteland 2: Director's Cut in now available to purchase from Amazon, Best Buy, GameStop and Target.