File under "the worst kept secret in the business".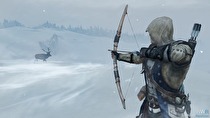 Following multiple retailer and self-leaks, we have confirmation of Assassin's Creed III and Liberation on Switch.
The Wii U launch title (AC3) and its 2012 followup (Liberation) will be sold together starting on May 21 as Assassin's Creed III Remastered. Liberation, originally a PlayStation Vita title, will be based on the HD version.
To date, III and Liberation are the only Assassin's Creed games to take place in the United States. III is set during the Revolutionary War, while Liberation is set in Louisiana around the time of the French and Indian War and features a black female protagonist.