That was... unexpected.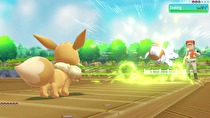 If you're still on the fence about Pokémon Let's Go, you can now make the call for yourself with a demo.
The demo version of the November release is available now from the eShop, or the game's page on NIntendo's online listing, and is available worldwide.
It appears the demo is based on the E3 2018 demo that sets the player in Viridian Forest, with a random choice between Pikachu and Eevee. Pokémon catching is available, but the data does not transfer to the full game.