Hopefully folders are free for everyone.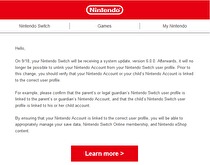 Getting onto Switch Online is going to require a firmware upgrade.
In a communication to Nintendo Account holders this evening, it was announced that the latest full update of the Switch's system software will come on Tuesday. The communication came with a warning that following the update, it would no longer be possible to disconnect a Nintendo Account from the Switch profile.
Prior to the update, the eShop will be in maintenance mode from 5 p.m. to 8 p.m. Pacific time (8 - 11 Eastern).