The end-of-summer Ultra Bonus Event is a celebration of Kanto Pokemon.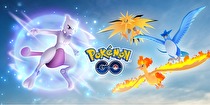 Farfetch'd, Kangaskhan, Mr. Mime, and Tauros join the Alolan-form Pokemon in 7km eggs, and Mewtwo will appear in normal raids, Niantic announced today.
Articuno, Zapdos, and Moltres will return to raid battles from Sept. 13 to Sept. 20, all with possible shiny encounters. Mewtwo will take over Sept. 20 and stay until Oct. 23. There's no word on Mewtwo's shiny form.
The four regional Pokemon, previously only available by traveling to North America, Europe, Australia, and Asia, can hatch from 7km eggs available through gifts given by friends until Sept. 30. Other Kanto Pokemon will appear more frequently in raids and in the wild through Sept. 30.
Pokemon Go players unlocked the Ultra Bonus Event by completing quests tied to events throughout the summer.