No release date for it yet.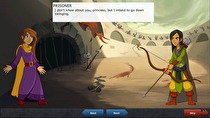 A new twist on the strategy RPG is coming to Switch.
Defender's Quest: Valley of the Forgotten is a tactical RPG that uses a battle system similar to tower defense, but with individual characters in place of the towers. The speed of movement in battle can be adjusted, or commands issued while paused.
Previously available on Steam, PlayStation Vita, PlayStation 4 and Xbox One, the port will be coming to Switch at a later date.