Torna~The Golden Country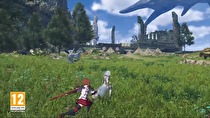 Nintendo revealed Xenoblade 2's next DLC, Torna: The Golden Country, during its E3 event. The prequel story covers a struggle for Torna against the Aegis, featuring new playable characters and returning story characters.
Torna: The Golden Country is set for September. The Expansion Pass which included the Golden Country will be sold as a code-in-a-box on September 21.