Throw another one on the early summer pile.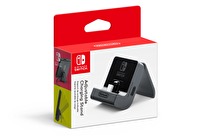 Nintendo has made an already busy day just a little busier.
The North American branches have announced a new charge stand for a July 13 release, priced at US$19.99/C$24.99. The stand is adjustable and allows the system to be charged while playing in tabletop mode via a USB port on the side of the stand.
Octopath Traveler, Captain Toad: Treasure Tracker, and the Marina/Pearl Amiibo pack for Splatoon 2 have already been tabbed for a July 13 release.