How many dungeons is too many? We'll find out in August (in Japan).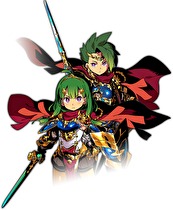 The Etrian series will be getting one more round on the 3DS.
Atlus has revealed Etrian Odyssey X for an August 2 release in Japan. Serving as a celebration of the series, every class ever featured in an Etrian game plus the new Hero class will be available. There will be multiple dungeons spread across a giant world map as well.
Included in the announcement was an illustration DLC pack which includes art from an artist working on Atlus's previously announced Project Re;Fantasy. No Western release details are available as of press time.