This comprehensive edition of the puzzle platformer will include two haunting, parallel, tales, previous DLC for the indie title, and... PAC-MAN amiibo support!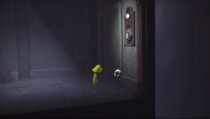 Last year's indie puzzle platformer Little Nightmares is coming to the Nintendo Switch in a Definitive Edition. This means that the title, a puzzle platformer where players make their way through the Maw, a mysterious vessel filled with haunted souls larger than the protagonists. Navigating the rooms, solving the puzzles, and avoiding the horrible denizens will be the challenge, played out through two parallel stories. The game originally featured paid DLC, but all of that content will be included in the game on the Switch.
Finally, seemingly out of left field, developer Tarsier Studios and Publisher Bandai Namco Entertainment have included amiibo support where scanning in he PAC-MAN amiibo will give the in-game character a "pakku" mask.