The tower defense game lands on May 24.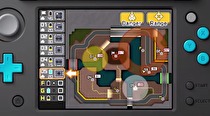 Dillon's Dead Heat Breakers was announced during this afternoon's Nintendo Direct.
The Nintendo 3DS game blends tower defense strategies with action gameplay elements. Featuring Dillon, the star of Dillon's Rolling Western, you'll be able to team with animalized versions of Mii characters May 24. Friends will be able to join as gunners during gameplay elements as well.
A demo for Dillon's Dead Heat Breakers will be out May 10 on the Nintendo 3DS eShop. The full release is set for May 24.