A heavy download list coincides with a heavy heart.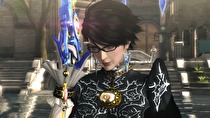 Permit me a moment of reflection here... my grandmother passed away on Tuesday evening.
She was the last of my grandparents to pass away at age 89, and she raised eight children on her own for the better part of fifteen years. She never really understood the whole video game thing, but she always encouraged me to follow my passions and even started one. She knew when to be tough, but when to be gentle as well and supported herself well into her 70s. Thank you, Grammie.
As I'll be traveling tomorrow for her funeral, I'm glad there's a couple of former games of the year I can take with me to try and distract myself. I'll be picking up the Bayonettas tomorrow including the second, which was my 2014 GOTY (though one of them is on card), and despite a certain jungle-based retailer's best efforts I'll be able to put some time into Radiant Historia: Perfect Chronology (2011 GOTY). There's also The Longest Five Minutes if I feel like something a little more timeless and less intense. (Daan's hands-on for Bayo 2, Neal's Radiant Historia review, and someone reviewed The Longest Five Minutes.)
The indies are firing on all cylinders as well as Owlboy is out, Fe (ignore the lootbox-shaped elephant in the publisher field) comes out tomorrow, The Fall: Part 2 (John's review) lands today, and even Atooi brings back beloved exploration title Xeodrifter. In the Archives, there's three games for three publishers as Psikyo has Samurai Aces, Hamster/SNK roll out Fatal Fury 3 and Flying Tiger trots out infamous console mascot Johnny Turbo.
North America
Switch Retail
Monster Energy Supercross: The Official Videogame (US$59.99/C$79.99: Tuesday)
Bayonetta 2 ($49.99/$64.49: Friday, buying the two Bayonetta games together brings the total cost to $59.98/$79.98)
The Longest Five Minutes ($39.99/$54.99: Tuesday)
Bayonetta ($29.99/$38.69: Friday)
3DS Retail
Radiant Historia: Perfect Chronology ($39.99/$54.99: Tuesday)
Switch eShop
Owlboy ($24.99/$27.99: Tuesday)
Fe ($19.99/$25.99: Friday)
Escape Trick: 35 Fateful Enigmas ($19.99/$25.99)
The Fall Part 2: Unbound ($16.99/$20.64)
Joe Dever's Lone Wolf ($14.99)
Wanderjahr: TryAgainOrWalkAway ($9.99/$11.99)
TorqueL: Physics Modified Edition ($9.99/$11.61)
Xeodrifter ($9.99/$11.00)
Aqua Kitty UDX ($8.99/$9.99)
Pool Billiard ($7.99/$8.99)
Millie ($4.99)
3DS eShop
Machine Knight ($9.99/$13.99)
RTO 2 ($9.99/$11.99)
Switch Archives
Johnny Turbo's Arcade: Gate of Doom ($7.99/$9.99)
Fatal Fury 3 ($7.99/$9.87)
Samurai Aces ($7.99/$8.99)
Demos and Trials
Violett (Switch)
Quest of Dungeons (Switch)
Wanderjahr: TryAgainOrWalkAway (Switch)
Sales and Price Drops
Highlights: NBA 2K18 is 35% off until Tuesday. Full spreadsheet
Europe
Switch Retail All Friday unless noted
Monster Energy Supercross: The Official Videogame (€59.99/£49.99: Tuesday)
Bayonetta 2 (€49.99/£39.99: Buy both Bayonetta 1 and 2 for €59.98/£49.98)
The Longest Five Minutes (€39.99/£39.99)
Bayonetta (€29.99/£24.99)
3DS Retail
Radiant Historia: Perfect Chronology (€39.99/£35.99)
Switch eShop
Owlboy (€22.99/£18.99: Tuesday)
Fe (€19.99/£17.99: Friday)
Escape Trick: 35 Fateful Enigmas (€19.99/£15.99)
Joe Dever's Lone Wolf (€14.99/£13.49)
The Fall Part 2: Unbound (€14.20/£12.79)
Xeodrifter (€9.99/£8.99)
Wanderjahr: TryAgainOrWalkAway (€9.99/£8.99)
TorqueL: Physics Modified Edition (€9.99/£8.99)
Aqua Kitty UDX (€7.49/£6.49)
Billiard (€6.99/£6.29)
Wii U eShop
Fat Dragons (€0.99/£0.89)
3DS eShop
Fat Dragons (€0.99/£0.89)
Switch Archives
Samurai Aces (€6.99/£6.99)
Fatal Fury 3 (€6.99/£6.29)
Japan
Bayonetta 2 (¥6458)
Bayonetta (¥3758)
Unbox: Newbie's Adventure (¥3240)
Owlboy (¥2700)
Escape Trick: 35 Fateful Enigmas (¥1980)
Samurai Aces (¥864)
Fatal Fury 3 (¥823)
Billiards (¥800)