It'll be a few months later than the PC version.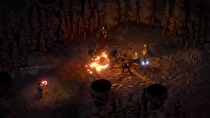 A beloved RPG in the PC space will come to the Switch this holiday.
Obsidian Entertainment's isometric RPG sequel Pillars of Eternity II: Deadfire has been tabbed for release on all consoles including the Switch before the end of 2018. Obsidian will handle publishing duties for the console versions, while Game Informer is reporting that the port will be developed by Red Cerberus.
The original Pillars of Eternity was funded by a 2012 Kickstarter and was nominated for multiple RPG of the year and writing awards after its 2015 release. Deadfire was originally funded on crowd-funding/investing site Fig, and will release on PC in early April.