Tame the wild and find your child.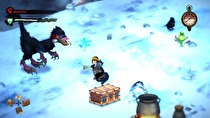 Curve Digital has announced another Switch project.
The indie publisher has teamed up with London-based Solar Sail Games to announce Smoke and Sacrifice for a 2018 Switch release. A survival-focused RPG, Smoke and Sacrifice stars a young mother named Sachi who must brave ever-changing environments in order to find out the fate of her child.
Among the goals for the game is to create a living world in which the behavior of plants and animals can affect the outcome of the story or the available tools.