Come on in, come to the place where fun never ends.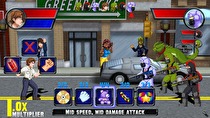 An upcoming version of an indie RPG success story will also be the first Switch title for a well known boutique publisher.
Mighty Rabbit Studios's hit Saturday Morning RPG will be coming to the Switch in the spring. Heavily inspired by cartoons of the late 1980s, the irreverent RPG originally debuted episodically on iOS in 2012 before following up with PC, PlayStation Vita, Xbox One and PlayStation 4 releases.
Additionally, Limited Run Games have announced that a small run of card copies of the game will also be available this spring (following the eShop launch). The PlayStation family versions were released previously through Limited Run with about 2,000 copies of both the Vita and PS4 versions being made available.