Following last year's Fire Emblem Warriors, Nintendo and Koei Tecmo are bringing their previous collaboration to Switch in the Zelda-themed Hyrule Warriors.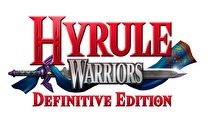 Nintendo is bringing Hyrule Warriors Definitive Edition to Switch this spring.
Hyrule Warriors first launched on Wii U in 2014, with a 3DS version following in 2016. The 3DS version added content from The Wind Waker, which will now be available on a home console for the first time. The Definitive Edition on Switch will contain all the content in the Wii U and 3DS versions, as well as all the DLC and new Breath of the Wild costumes for Link and Zelda.