"A curious game. It seems Luigi's only winning move is not to play."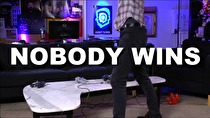 Mario Party: The Top 100 will want you to invite some Amiibo to Minigame Island.
In a new trailer, it was revealed that the main Minigame Island mode will feature special "Amiibo spaces" that lead into the minigames. Tapping an Amiibo from the Super Mario series on the spaces will give 10 coins, which are converted to 1 Star for scoring purposes. Tapping an Amiibo when running out of lives can also give a one-time revival.
The recently released Goomba and Koopa Troopa Amiibo will give additional coins, and also can unlock packs of the minigames.