Along with a couple of dates for 3DS RPGs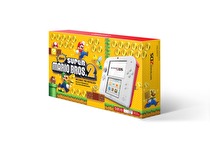 Nintendo of America has announced a refreshed bundle for the smaller 2DS, along with a couple of localization release dates.
The smaller, flatter 2DS will relaunch on August 25, for the same MSRP of US$79.99. This version will be red with a white front and will have a copy of New Super Mario Bros 2 preinstalled.
Monster Hunter Stories has also been confirmed for release on September 8, while Yo-Kai Watch 2: Psychic Specters will follow on September 29. Stories will receive a demo on August 10, while the third version of Yo-Kai Watch 2 will feature the ability to transfer save data from the previous Bony Spirits and Fleshy Souls versions.