And a new goal to strive for.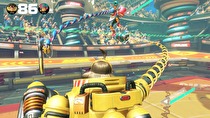 A new update for ARMS has added a new character, mode and top rank among other changes.
Version 2.0 adds final boss Max Brass to the playable roster, as announced at the end of Nintendo's Treehouse Live presentation at E3. A new Versus mode has also been added called Headlok Scramble, as well as the ability to reach level 20 in Ranked play and view records of play on the main menu.
Characters and ARMS have also been modified, and a new stage called Sky Arena has been added to the online map rotation replacing the Snake Park stage.
Full patch notes are available below:
The free 2.0.0 update for #ARMS is now available download, with plenty of changes competitive fans will want to see! 👀 pic.twitter.com/7CEEVGlW4v

— Nintendo Versus (@NintendoVS) July 12, 2017