Most definitely without a filter.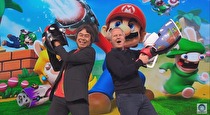 The Switch's worst kept secret is finally official, as Ubisoft has unveiled Mario + Rabbids Kingdom Battle.
Due to release on August 29, the strategy RPG sees Mario-themed Rabbids teleported to the Mushroom Kingdom, which made it unstable. The game was confirmed to be in development for three years. The soundtrack was also confirmed to be created by former Rare composer Grant Kirkhope.
June 12, 2017
A Day One edition of the game will be available according to pulled retail listings, but no indication as to what it contains. Figurines of the Rabbids are available at Ubisoft's online store.
NWR has posted some internal documentation on the title, which can be read here.
Ubisoft's online store has featured a preorder "Pixel Pack" of weapons, and a limited edition with a figurine, cards and a soundtrack CD.