Easier Korok seeds, long trackbacks and more.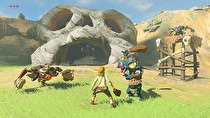 The first portion of the Breath of the Wild expansion pass has been detailed.
No hard release date was given (just "Summer"), but the contents of the first half of the pack were listed on the game's website a short time ago. The features include:
The Trial of the Sword, a 45-room enemy gauntlet which unlocks "the true power of the Master Sword" when completed
The Hero's Path, a new feature for the map that allows for retracing steps for up to 200 hours of gameplay
Hard Mode, which raises all enemies by one level (Red Bokoblins becoming Blue) and gives them auto-regenerating health, plus enemy and treasure spawning in the sky
A Travel Medallion which allows for creation of one additional fast travel point
New equipment, including Majora's Mask, Midna's helmet, and a Korok Mask that rumbles when a Korok seed is nearby
An update for Breath of the Wild is also available now to allow for independent text and voice acting, such as Japanese voices with English text.