Beware the wrath of Mixmaster Mummy.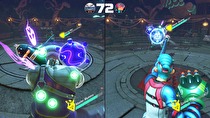 Nintendo has released two new trailers for ARMS that show off some of the character and attack options in the fighter.
The attack trailer shows gloves with different elemental and attack properties and reveals that the gloves can be mixed and matched, while the character trailer shows off five different characters.
There is no specific release date for ARMS beyond Spring 2017.