Plus a couple of price drops for other farming sims.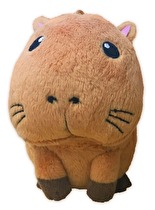 XSEED has made a couple of announcements about their farms, including a unique preorder bonus.
Preorders for next spring's Story of Seasons: Trio of Towns will come with a plush capybara. Standing about 3.5" tall, the animal will be available at "select retailers" with preorders.
The announcement also confirmed that 2013's Rune Factory 4 has sold over 200,000 copies, and 2015's Story of Seasons has cleared 150,000 copies. Starting today, both games will be lowered by $10 to $29.99, for physical and eShop copies.