An official Nintendo Entertainment System with HDMI? What a time to be alive.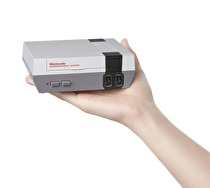 Nintendo will be releasing new hardware this November, but not what most expected.
The classic Nintendo Entertainment System will be reissued on November 11 in North America and Europe, with a suggested US MSRP of $59.99 (Australia $99.99). It will be a smaller version of the system that will come with a new Wii-compatible Classic Controller (in NES style) and 30 games. Existing Classic Controllers will plug into the controller ports, or the NES Classic Controller can be purchased separately for $9.99 (AU$19.99). The system will use HDMI (cable included) to plug into the TV.
The games included with the base unit are:
Nintendo published: Balloon Fight, Donkey Kong, Donkey Kong Jr, Dr. Mario, Excitebike, Ice Climber, Kid Icarus, Kirby's Adventure, Mario Bros, Metroid, Punch-Out! Featuring Mr. Dream, StarTropics, Super Mario Bros 1, 2 and 3, The Legend of Zelda, Zelda II: The Adventure of Link
3rd party: Bubble Bobble (SquareEnix by Taito), Castlevania, Castlevania II: Simon's Quest (Konami), Double Dragon II: The Revenge (Arc System Works), Final Fantasy (SquareEnix), Galaga (Bandai Namco), Ghosts and Goblins (Capcom), Gradius (Konami), Mega Man 2 (Capcom), Ninja Gaiden (KoeiTecmo), Pac-Man (Bandai Namco), Super C (Konami), Tecmo Bowl (KoeiTecmo)
Suspend point functionality will be supported for the games as well.
PAL systems (Europe and Australia) will not include the AC adapter for the system, but the North American systems will.
Canadian pricing is $79.99 for the console and $12.99 for the controller.