And some discount owners get a bigger bonus.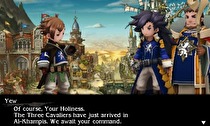 Bravely Second may release on April 15 in North America, but you'll have a month to explore the world beforehand.
The demo for the game will release in wide availability on March 10, with members of Best Buy's Gamers Club Unlocked service receiving special codes on March 7. The game itself will also go up for digital preload on March 10.