A few days late and a few hundred million dollars short.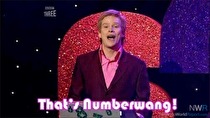 November's US sales had a few surprises and some disappointments for Nintendo systems and games.
In terms of hardware, the Wii U sold at about a similar level to the same time last year with Super Smash Bros, selling approximately 240,000 consoles in November largely due to the Smash Splat bundle. A precise 3DS number was not available, but the 3DS sold approximately 510,000 units last November and handheld consoles were down 31% over last year according to the NPD Group, which would translate to approximately 355,000 systems.
In software, the only Nintendo title in the combined top 10 is Just Dance 2016, which was confirmed to sell over 300,000 units combined. The top two selling versions of the game were the Wii U version in 2nd place, and amazingly the Wii version as the best seller. Nintendo's first party releases in November struggled, as Pokémon Super Mystery Dungeon was the only game of the four to crack six figures. According to estimates, Yo-Kai Watch turned in about 70,000 sales in its first month, Animal Crossing amiibo Festival sold 36,000 copies and Mario Tennis Ultra Smash did not clear 20,000 copies sold.
Nintendo's other triumph this month was in amiibo, as the figures are now over 11 million in the United States.