Making a mess is one of the highest forms of art.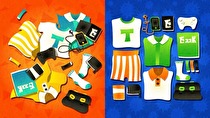 Results from the weekend in Splatfest action:
North America: Art 255, Science 245 51-49, 51-49 At Hammerhead Bridge, a tight match the whole day ended with Team Art claiming two narrow victories in the closest finish since the 2.0 update. Science made a spirited combeack to try and force extra splats, but Art was able to hold off the charge and pick up the narrow win.
Europe: Messy Rooms 264, Tidy Rooms 236 56-44, 52-48 At Bluefin Depot, the Tidy Room side was not able to clean up as the Messy side emerged with maximum points. Callie is now 4-1 in European competition and 10-5 overall after five rounds of competition..