Two hardcore shooters look to be headed to North America shortly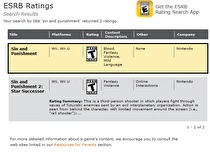 The ESRB has updated ratings for import N64 game Sin and Punishment as well as its Wii sequel, Sin and Punishment Star Successor.
The listing indicates that the two games will release on Virtual Console soon. The original game will be eligible for upgrade pricing for those who purchased the import version on Wii, while Star Successor's online leaderboards will not be available due to their use of the now-closed Nintendo Wi-Fi Connection.
No release date has been given yet for the games, but ESRB ratings usually indicate a quick turnaround for a Virtual Console release.