Perfect timing for a horror game.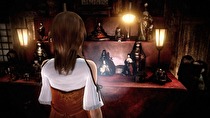 Project Zero: Maiden of the Black Water, aka Fatal Frame, has a release date and some new information for Australia and Europe.
The game will release on 30 October in Europe and 31 October in Australia, and will have a limited edition as the only version offered for sale in stores. The package will contain a double-sided poster, four "Spirit Photos", a steelbook and an art book.
For those who wish to know if they can handle the scares, a trial version will be available on the eShop from the same dates. The trial will be the game's prologue and first two chapters.