''On my business card, I am a corporate president. In my mind, I am a game developer. But in my heart, I am a gamer.''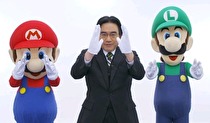 Nintendo president Satoru Iwata has passed away at the age of 55.
Nintendo Company Limited announced the passing in a release on their investor website (PDF link). The cause of death is a bile duct growth, which Iwata took an extended leave of absence from his duties in 2014 to attempt to resolve.
Our thoughts and prayers go out to the Iwata family and to the Nintendo family in this difficult time. More information will be provided as it becomes available.
UPDATE 9:45pm ET: The Financial Times is reporting that the president's position will not be filled for now, and Nintendo will be placed under the caretaker leadership of Shigeru Miyamoto and Genyo Takeda.