We can't talk about this subject anymore. *Similarities to other podcasts are purely "Coincidental"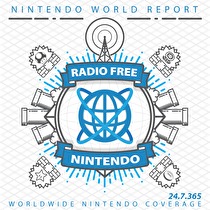 Subscribe via iTunes (Please rate and review, too!)
Guillaume is out this week, presumably honing his survival instincts deep in the Yukon. In his place; Jonny, Jon, and James are joined by GameTrailers Managing Editor (and Planet GameCube staff alum) Daniel Bloodworth. During the intro, James announces the surprisingly gracious Virtual Console gods have bestowed Blaster Master (NES) for our new "RetroActive Jr." feature. There's already a forum thread open, and we won't wait long to discuss this one, so drop off some goodies!
The show proper opens with happy memories of the late Nintendo President and CEO Satoru Iwata; Dan carries memories of Mr. Iwata's time heading up HAL into New Business, with a revisit of Kirby's Adventure, and plays Witcher III for a second time. Next up, Jon finally joins the Splatfest with his impressions of Splatoon. How does the fan of online multiplayer shooters take to Nintendo's first foray into the field? Jonny follows with a look at the frenetic Hyrule Warriors for Wii U, the methodical Monster Hunter 4 Ultimate for 3DS, and the finally available Drive Club PS+ edition for PS4. Lastly, James catches up with 2005's DS adventure game Trace Memory.
Following Now Playing, it's time for yet another Radio Free Nintendo presents: The Lord's of Thunder Round. Rapid-fire email topics include: investing in a New 3DS, the value proposition of Ocarina of Time 3D, third-party Amiibo characters, the future of Fire Emblem, Pokémon Shuffle, video game composers, and the game that cannot be named.
Thanks to Dan Bloodworth for joining us. To see more of Dan, check out GameTrailers.com, the GT YouTube channel or GT's Twitch stream. Be sure to check out the BackTrack episode covering the music of Chrono Cross.
While we don't spend a lot of time on it, you can hear more from James on the passing of Satoru Iwata in this week's Nintendo News Report. He joins Donald Theriault, and Alex Culafi for an open conversation about the man and his legacy. In tribute, he sports a three-piece suit.
To see more of Jonny, along with NWR Director Neal Ronaghan, check out the GameTrailer's E3 stream in which the two of them breakdown Nintendo's announcements and presentation.
Lastly, be sure to check out the episode of Jonny's music podcast, Discover Music Project, that inspired the this week's email on video game composers. He and Radio Trivia's Michael "TYP" Cole explore the catalog of Hirokazu "Hip" Tanaka - composer of many of Nintendo's most recognizable tunes.
This episode was edited by Jonathan Metts and James Jones. The "Men of Leisure" theme song was produced exclusively for Radio Free Nintendo by Perry Burkum. Hear more at Bluffs Custom Music.