Bowser and Donkey Kong will be making appearances in new physical figures that feature BOTH Skylanders and Amiibo functionality.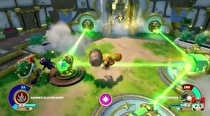 Nintendo and Vicarious Visions have announced two exclusive Skylander Amiibo figures for the upcoming game, Skylanders SuperChargers.
Hammer Slam Bowser and Turbo Charged Donkey Kong will be made available, both of which will feature unique moves and vehicles for them to utilise.
The two figures can change modes via a twist of the base. This allows the figures to act as either a regular Amiibo, or as a Skylander.
The developer was unsure and a bit hesitant at first with suggesting ideas to Nintendo, but found that Nintendo was easy to work with and both threw in ideas to make the two characters feel new while also harkening back through the years to incorporate elements from their various incarnations and pasts.
Skylanders SuperChargers will launch later this year.