The original bafmodad collector itself comes around for one more spin.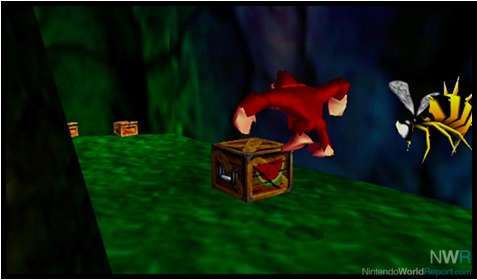 So it's finally here / Downloading for you
If you got 10 bucks / You can grab it too
But when you start to play / You'll really want to snap
As you find fifty million / Pieces of crap
DK / Donkey Kong
DK / 64 is here
...yes, the long-awaited (for some reason) Donkey Kong 64 headlines the week in downloads for North America, while 3DS owners get to go fishing, beat up zombies with Wii Remotes, and... make note of birthdays.
At least we can visit the Fantasy Zone again this week.
Wii U Virtual Console
Donkey Kong 64 ($9.99)
3DS eShop
3D Fantasy Zone II W ($5.99)
Ultimate Angler (StreetPass game: $4.99)
Battleground Z (StreetPass game: $4.99) Both of the StreetPass games can be bought together for $7.99
StreetPass Mii Plaza Premium ($4.99)
A-Train 3D: City Simulator ($29.99/$34.99)
Pazuru ($5.99/$6.99)
Word Search by POWGI ($7.99/$9.99)
Wii U eShop
Word Search by POWGI ($7.99/$9.99)
Tilelicious: Delicious Tiles ($5.99)
(Non-US regions of North America also get psyscrolr: $3.99 Canadian)
Themes
Yoshi's Springtime Siesta ($1.99/$2.49
Sales and Price Drops
Remember that the Spring Super Sale is on through noon ET Monday.
Atlus will be having its regular sale from April 20 - 27: Etrian Odyssey Untold and Code of Princess are the stars
Darts Up on Wii U and 3DS are on sale until May 14
Paparazzi is $2.99 (regular $4.99) until April 28
DLC for Lucadian Chronicles is 37% off ($4.99 from $7.99) from April 21 through April 28
Costume Quest 2 is $9.99 (from $14.99) starting tomorrow through April 24
Circle Entertainment's Castle Conqueror EX, Fairune and Parking Star 3D will be on sale through May 7
Real Heroes: Firefighter 3D is $4.99 (from $9.99) until April 30.
Breezeblox has been permanently reduced to $4.99.
Activities
International StreetPass Week, originally announced for Europe, will be in North America as well from April 16 to 27.