Get a "helping hand" from some of your Amiibo in Kirby's 2015 adventure.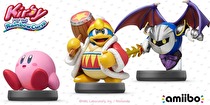 The Amiibo for Kirby, King Dedede, and Meta Knight will give you a "helping hand" in Kirby and the Rainbow Curse.
The Kirby Amiibo will let you star dash at any time, the Dedede one lets you wear the King's hat and get more health, and the Meta Knight one puts his mask on you and improves your attack.
Kirby's Amiibo is available now, while King Dedede and Meta Knight are coming out alongside the third wave in February. In North America, Meta Knight is a Best Buy exclusive.
Kirby and the Rainbow Curse will be priced the same as Captain Toad: Treasure Tracker in Japan. The below trailer also confirms that the game will have 28 story levels and 40 challenge ones.