Developers elaborate on story, single-player mode and more.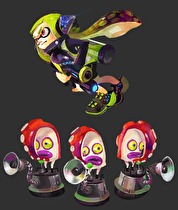 Recently Splatoon developers have taken to Twitter to share some details and new information regarding the new Wii U title releasing next year.
In single player mode, or "Hero Mode", it's the Squids versus the Octopi. A mysterious squid-man has discovered the Octopus Army Corps secret plan to invade the surface world from their underground facility. It's up to your Squid hero to infiltrate their base and take them down.
Several specific details about the gameplay in Hero Mode have already been laid out. Protagonists will don a special Hero Suit for this battle and be able to make use of devices in the underground base, like an ink bullet cannon, to fight and navigate their way through enemy territory. Other pieces like Sponge Blocks that expand when hit with Squid ink and contract when hit with Octopus ink will be features of single player levels.
Developers also gave us a little more elaboration on some of the tools and controls of multiplayer mode. Players will be able to customize their Squids with various items like t-shirts, hats and glasses as well as choosing from three different weapon types: the Paint Gun, Charge Gun, and the Roller. The Paint Gun is a player's standard primary weapon, while the Charge Gun and Roller are made more specifically for distanced and close-range combat specifically. Players will also have access to sub-weapons and special weapons. Some sub-weapons like the Splash Bomb can be used to not only increase a team's ink in a single burst, but it can damage opponents and reveal hidden enemies as well. Special weapons have to be acquired through claiming territory. There are several types of these too, like a Barrier to reflect enemy attacks or a type a super cannon that makes all your enemies suddenly have a very bad day.
Check out some of the pictures below to see a lot of these new details in action and be sure to let us know what you think of Splatoon in the comments!