Get ready to Smash some Bros. with Pokéballs!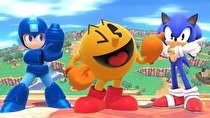 I'm taking over for Bryan this week, who can't make it to the table for the usual Nintendo Download segment. In the latest eShop offering, Nintendo brings us one of the most anticipated games of the year, perhaps even the Wii U system itself! For those minorities out there who aren't fans of Nintendo's highly acclaimed Smash Bros. series, there are a few other tasty Nintendo treats served up to whet your appetite for Thanksgiving. We finally get the Wii U release of Ubisoft's Watch_Dogs, The Hoenn region is revisited in Pokémon Omega Ruby and Alpha Sapphire versions on 3DS, and just a single Virtual Console release to garnish the buffet platter. If that's not enough, Nintendo have also cooked up some appetizing new sales. Phew, I'm stuffed - and we don't even celebrate Thanksgiving where I live!
Wii U Downloads
The Amazing Spider-Man: Ultimate Edition (11/25)
The Amazing Spider-Man 2 (11/25)
Wii U Virtual Console
DK: King of Swing
Nintendo 3DS Downloads
Pokémon Omega Ruby and Pokémon Alpha Sapphire
Teenage Mutant Ninja Turtles: Danger of the Ooze
Sales
For Wii U eShop:
Jeopardy!, Wheel of Fortune and other Nordic Games releases will receive a price drop starting 9am PT on November 25th.
The Letter is seeing more than 75% off, reduced to $0.49 until 8:59am on November 30.
Ping 1.5+ is half price through December 3.
For Nintendo 3DS eShop:
Big Hero 6 Batte in the Bay and Disney Frozen: Olaf's Quest are dropping by more than 30% until December 10.
Natsume are holding a sale on titles including Yumi's Odd Odyssey and Harvest Moon: The Tale of Two Towns until December 1st.
The Keep is reduced by more than 30% through December 4.
More than half price off Real Heroes: Firefighter 3D, also until December 4.
And finally, Classic Games Overload: Card & Puzzle Edition has more than 30% reduction until December 1.
Demos
ZaciSa's Last Stand on Wii U
Fishdom H2: A Hidden Odyssey on 3DS