Let's gather 'round the campfire for some marshmallows and Pokémon.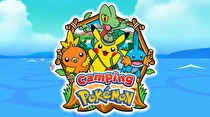 Camp Pokémon, a new spinoff game from The Pokémon Company, is now available for iOS devices. The app is absolutely free and will take players to a special island where they can play different activities to help them grow as future trainers.
The app features mini-games such as the Arena, where trainers learn how to catch virtual wild Pokémon "pins" that can be used as stickers in other areas, and Pokémon in Focus, a shadow guessing game. Players receive either a bronze, silver or gold badge rating based on their performance. Players are lead around the island by two camp counselors with full voice acting.
There is also a photo booth where players can decorate pictures and save them back to their device. Stickers can be earned by catching more Pokémon pins.
Nothing has been announced regarding other devices getting the app in the future. Previous Pokémon apps have included Pokémon TV, Pokémon TCG Online, and the Pokédex.