The indie hit is coming soon to the Wii U.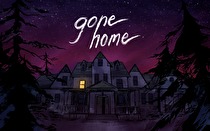 The indie hit Gone Home will be coming to the Wii U eShop in the fourth quarter of 2014. This is what Nintendo of America said at an Unite 2014 presentation and also confirmed it in a press release on Friday.
The title, developed by the Fullbright Company, was originally released almost one year ago. It is a first-person exploration game in which players take control of the character Kaitlin. She has to research the mysterious disappearance of her family and the plot will further evolve as she moves along her house in search of clues.
The Wii U version of this acclaimed game will be published by Midnight City.