Curve Studios is porting the well-received indie puzzle platformer to Nintendo's system.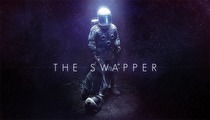 The Swapper, a highly-regarded 2D puzzle platformer created by Finland-based indie developer Facepalm games, is coming to Wii U.
Curve Studios, the developer of such titles as Fluidity and Stealth Inc. 2, is porting the game to Nintendo's platform. Curve is also responsible for bringing the game to the PlayStation family of systems. The Swapper originally came out for PC in May 2013.
The game is about an astronaut stranded on a mysterious faraway space station. Gameplay revolves around an experimental device allowing users to clone themselves, with players able to swap control between the duplicates. The experience is heavy on atmosphere and exploration, with a unique art style resulting from the use of clay models and everyday materials in constructing the game's look.
Kotaku reports that the Wii U version of the Swapper has been augmented a bit, resulting in a couple of control options tailored to play on the GamePad. Specifically, there will be a touch-only mode and "intuitive control-stick options," with some of the puzzles having been slowed down down a bit in order to account for decreased reaction time due to using a control stick instead of a mouse.
The Wii U version of The Swapper is expected to come out in November.