A company rep offers a thorough breakdown detailing how Bayonetta 2 buyers will get the first game for free. UPDATE: We now have new information direct from Nintendo to augment our original report.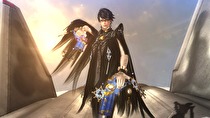 UPDATE: We have received word direct from a Nintendo rep regarding this issue, and the information we now have presents a different take on how digital shoppers will go about getting Bayonetta 1 and 2.
Those getting the games from the eShop will need to make two separate purchases, but the price of both will equal the total for the retail combo version. Each may be bought independently from the other, though specific pricing for the two games has yet to be confirmed.
Our original report's assessment of how the packaged version will work remains accurate. To sum up, retail copies will contain two discs, one with the first Bayonetta and one with the sequel.
Original Story:
A Nintendo of America representative has cleared up the issue of how the first Bayonetta will be available to those who purchase the upcoming Bayonetta 2, as reported by GoNintendo.
Those who purchase the Wii U-exclusive sequel in packaged form will get a second disc in the box containing the first game. Digital buyers of Bayonetta 2 will get an automatic eShop discount allowing them to download the first game for free. It also works in reverse: buy the original Bayonetta digitally and get a free download discount for the sequel.
Bayonetta 2's inclusion of its predecessor was announced at E3 this year, and Nintendo's wording in regards to the promotion has led to some confusion up to this point. Now that it's cleared up, fans can get back to looking forward to playing the modified Bayonetta and its promising sequel this October.