Nintendo's own dino-flavored remix on Pokémon mechanics gets a 3DS sequel.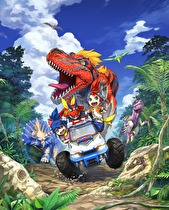 Fossil Fighters: Frontier is on deck for a 2015 North American release, Nintendo revealed today. This latest 3DS entry to the Nintendo-owned RPG franchise (Spike Chunsoft and Red Entertainment are credited with development duties) follows the 2010/2011 Fossil Fighters: Champions for the DS.
The Fossil Fighters franchise is based around digging up dinosaur fossils, (well, technically the game refers to them as Vivosaurs) bringing them back to life, and then directing them in RPG battles ala Nintendo's more famous Pokémon series. However, Frontier also features vehicular exploration, with different vehicles affecting how players race across the landscape in search of fossils.
Add local three-player co-op gameplay to explore dig sites and add six player local and online battles, and it looks like Nintendo believes there's more to the collectible RPG genre than Pokémon come 2015.