Over 2,700 locations will host Test Drive Days May 17-18.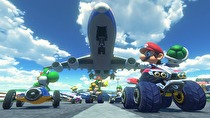 Nintendo is partnering with GameStop to allow fans the chance to play Mario Kart 8 almost two weeks early via Test Drive Days, a demo event to be held at over 2,700 GameStop locations across the United States.
While the main lure of Test Drive Days is "an action-packed demo version" of Mario Kart 8, there will also be an opportunity to pick up some swag. Fans who pre-order the game at the event or have already pre-ordered it at GameStop can pick up an exclusive double-sided poster.
Mario Kart 8 Test Drive Days will run from noon to 4 PM local time on May 17 and 18. To check if there will be a participating location near you, click here.