Main characters teased in new announcement trailer.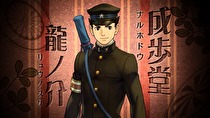 The Ace Attorney series travels to Japan's past in an upcoming installment from Capcom for the Nintendo 3DS: Dai Gyakuten Saiban - Naruhodou Ryuunosuke no Bouken. Development will be led by series creator Shu Takumi.
Set in Japan's Meiji era, sometime between 1868 to 1912, the game focuses on Phoenix Wright's ancestor, Naruhodou Ryuunosuke. The announcement trailer below showcases the architecture of the era, when Japan was transitioning between feudal and modern society, and two new characters.
The game currently isn't confirmed for a western release. Check out the announcement trailer and let us know what you think!