There is another special offer too for good measure!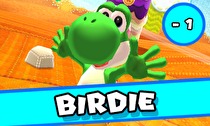 Nintendo of Europe has announced that a free demo for Mario Golf: World Tour will be hitting the Nintendo eShop this Thursday. This was announced in today's download press release for the region.
Specifics for the demo were sadly not given, though NoE did detail a deal for the people who decide to purchase World Tour. If you purchase the game before the end of May, you will be receiving a free download code for Mario Golf on the Game Boy Color. After that, this GBC classic will make its Virtual Console debut in Europe and will available for all to be downloaded. The price is set at €4.99/£4.49 and it has a scheduled release date of May 29th.
Mario Golf: World Tour will launch in Europe and North America on May 2nd and in Japan one day earlier on May 1st.