Nintendo gives gamers a peek at the upcoming NES retro inspired title.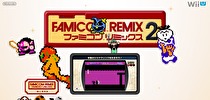 The Famicom Remix 2 website has officially launched in Japan.
The game, set to release on April 24 in Japan and on April 25 as NES Remix 2 in other regions, will have over 150 stages, 100 new stickers based on later era Famicom and Famicom Disk System titles, Miiverse integration, and over 250 MB worth of content. Famicom Remix 2 features classic titles such as Super Mario Bros. 3, Zelda 2: The Adventure of Link, Kirby's Adventure, Kid Icarus, Punch Out!! and more.
Japan will also be receiving a physical release in the form of Famicom Remix 1 + 2 on April 24 for 2,858 yen. The digital version will be available for 1,429 yen on the eShop. You can check out some gameplay videos below.